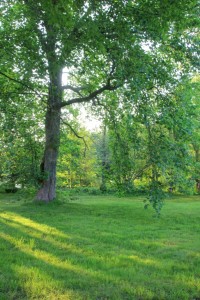 Click on image to see its original size
"And that brings me to this exquisite flower. I found it on a 100 ft. tall tulip tree (Liriodendron) within the 10K radius. It's sometimes referred to as a "tulip poplar" and apparently is also called canoewood, saddle-leaf tree, and white wood. Truth be known, it's more closely associated with magnolias.
I learned about this tree from Vicki O'Neil. She knew I was doing The July Project and would be on the prowl for the month of July. So she told me about this towering tree that blossomed out in green and orange flowers that looked like tulips during the month of July. It had been planted decades ago by a Mr. Gardner for his wife at the "Gardner Cottage" on the Haley Drive in Deerfield. Not only that, several years ago a huge limb broke off in a hurricane. Vicki had three bowls made; gave two away; still has one. Although the photo doesn't capture the essence of the bowl very well, the natural grains in the wood are a warm, buttery colour with a hint of pink."
- See more at:
http://sandraphinney.com/uncategorized/ ... CONSz.dpuf
http://sandraphinney.com/uncategorized/days-67-psycho/
http://sandraphinney.com/julyproject/da ... challenge/
background
This was mentioned in the paper today. It make sme wonder what other hidden trees are out there. The climate in this SW Nova area is in the zone 6 range so southern trees may do well. Lots of marine travellers there to bring seeds back, too.
BTW The 100 foot comment is likely wrong.