Trees and Forests of the Allegheny River Island Wilderness and Nearby Islands: Interim Report through December 2011
by Edward Frank, Dale Luthringer, Carl Harting. and Anthony Kelly
Native Tree Society Special Publication #10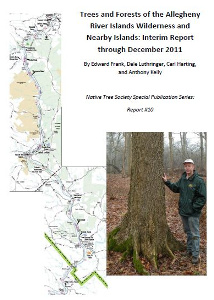 Click on image to see its original size
http://www.nativetreesociety.org/specia ... pt2015.pdf
15.8 MB
This report compiles the results as of December 2011 for the ongoing project of documenting forests and trees of the islands of the Allegheny River Island Wilderness and nearby islands in the middle Allegheny River in north central Pennsylvania. The islands included in this report are located in a stretch extending from the Buckaloons Recreation Area, seven miles downstream of Warren, Pennsylvania through Holeman Island, four miles downstream of Tionesta, Pennsylvania. This includes all of the islands in the Allegheny River Islands Wilderness, a number of forest service islands, and several private islands. Major islands investigated among others include, Crull's Island, Thompson's Island, Courson Island, Hemlock Island, King Island, Baker Island, and Holeman Island. At the present time some of the islands have been visited multiple times by groups of people, while others have seen only a quick scouting survey, or have not yet been visited.
The initial explorations were made by Dale Luthringer in 2003 (Luthringer 2003a). Edward Frank, Carl Harting, and Anthony Kelly joined the project in 2007 (Luthringer 2007b). This report includes photographs and general descriptions of each island visited during the field surveys. The tree and woody shrub species found on each island are listed. Tree height profiles, Rucker Height Indices, ad Rucker Girth Indices are presented for each island where sufficient measurement data was able to be collected. Background information on the geological, hydrological, archaeological, and historical settings of the individual islands and the study area in general is also included. Future plans include broadening the investigations to include other islands both upstream and downstream along the length of the Allegheny River and conducting more detailed investigations of the under sampled islands within this area.
An overview of the characteristics of the surrounding upland forest is presented as Appendix I. A preliminary scouting of Hoge Island located downstream on the Allegheny River in Franklin, Pennsylvania is presented as Appendix II. A listing of the individual trips made as part of this investigation is presented as Appendix III.
.