Chart: Tropical forest loss between 2000-2005
mongabay.com
July 29, 2012
http://news.mongabay.com/2012/0729-char ... -loss.html
A study published last month in the journal Science came up with new estimates of tropical forest loss between 2000 and 2005. The research — led by Nancy Harris of Winrock International and also involving scientists from Applied GeoSolutions, NASA's Jet Propulsion Laboratory and the University of Maryland — was based on analysis of remote sensing data calibrated with field studies.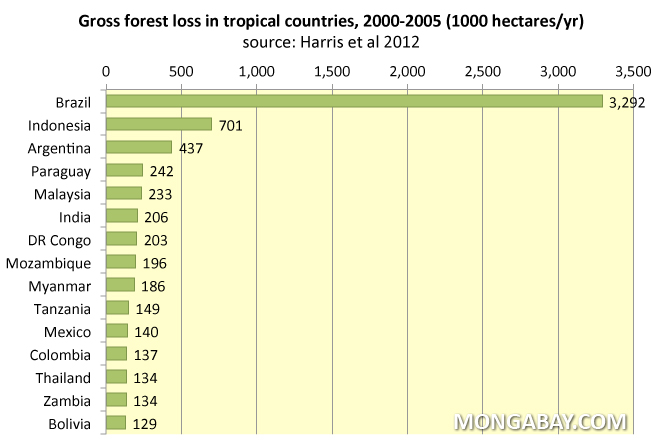 Click on image to see its original size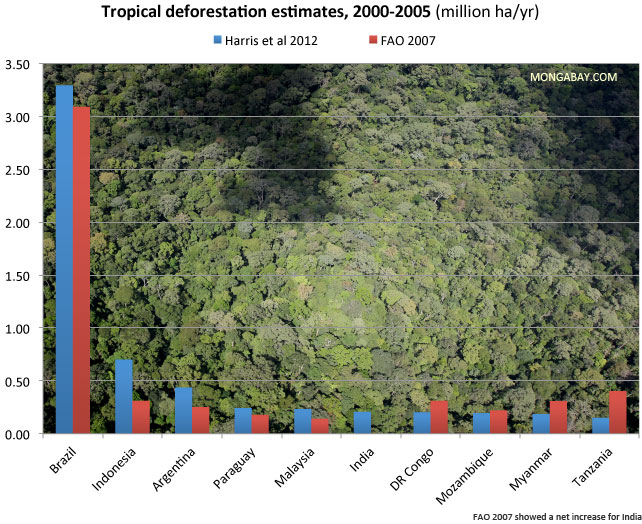 Click on image to see its original size
CITATION: Nancy L. Harris, Sandra Brown, Stephen C. Hagen, Sassan S. Saatchi, Silvia Petrova, William Salas, Matthew C. Hansen, Peter V. Potapov, and Alexander Lotsch. Baseline Map of Carbon Emissions from Deforestation in Tropical Regions. Science 22 June 2012: Vol. 336 no. 6088 pp. 1573-1576 DOI: 10.1126/science.1217962
Read more:
http://news.mongabay.com/2012/0729-char ... z229R3jrgm
.